Husband-and-Wife Team To Expand Award-Winning Devon Hotel Portfolio
Independent Finance Brokers, Christie Finance are pleased to announce successful funding for the purchase of The Royal Hotel and local chip shop, The Royal Plaice, in Appledore, Devon. The businesses were purchased by local hotel operator and husband-and-wife team, Garth and Sascha Hughes.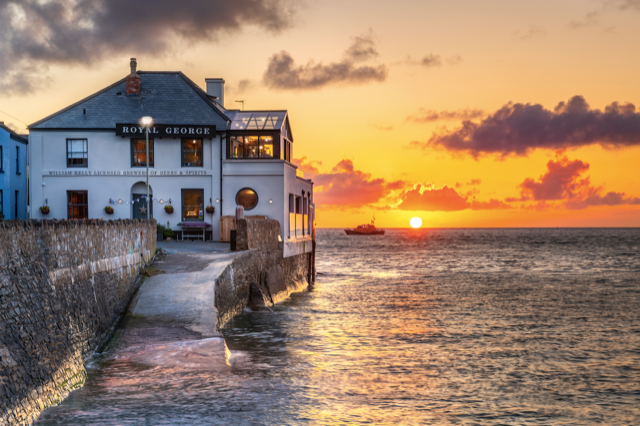 Garth and Sascha also own the award-winning neighbouring, The Royal George Hotel, and The Sailors Rest pub, as well as three additional letting accommodations in Appledore, which hold accolades such as the 2022 AA Rosette Award for Culinary Excellence. Garth's longstanding career in banking and Sascha's project management and interior design skills aided their significant investment into the businesses which are well-known for their high-quality accommodation and dining.

With funding support sourced through commercial finance specialist, Christie Finance, the couple have now purchased The Royal Hotel and The Royal Plaice. Keen to invest further in the local area, they intend on renovating the hotel's pub and the chip shop, which are both extremely popular among the locals of Appledore, and to add additional accommodation to the hotel.

Garth and Sascha comment, "Throughout the market turmoil of the past 12 months, Jimmy's commitment and drive have been exceptional. Jimmy took the time to understand my business and leveraged his banking network to attain a fantastic funding deal for my business, which enabled us to acquire two new businesses, in what has arguably been one of the most challenging times for the hospitality sector. I am very grateful for what we have achieved and can confidently say that Jimmy has been my trusted adviser throughout the whole acquisition process."

Jimmy Johns, Director at Christie Finance, adds, "I am delighted to support Garth and Sasha on this acquisition - we have been working together for the last couple of years, exploring several potential opportunities before they found the Royal George Hotel and Royal Plaice. The quality of their established business the Royal George was a great foundation, in a sector which has had its challenges over the recent years. We worked closely with Garth and Sasha to achieve this funding package; I wish them all the best with this new addition to their portfolio.

GET IN TOUCH

Jimmy Johns
Director
E: jimmy.johns@christiefinance.com
T: 07711 767 593

For further information on this press release, contact:
Fiona Fieldhouse
Corporate Communications Director
E: fiona.fieldhouse@christie.com 
M: 07738 182 406