Tenants purchase freehold via Christie Finance
Our clients, Cyclone Powder Coating Limited, has successfully secured funding to purchase the property they currently lease - Unit 24, Deeming Industrial estate, enabling the business to continue growing and have a permanent base to trade from.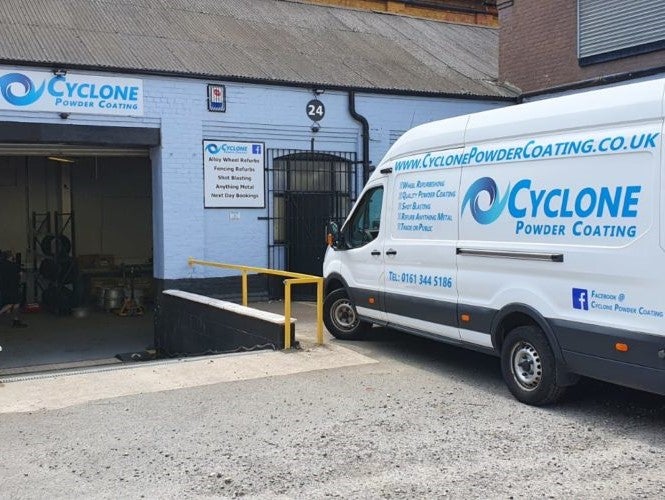 The company based in Stockport, specialises in both individual customer and trade powder coating, covering everything from motorcycle frames, alloy wheel refurbishments, to large industrial items and shop displays. Cyclone Powder Coating Limited is represented by Tom Honour and Anthony Behan. They have both worked in the industry since 2008 and started the business in 2013.  
Speaking of his experience working with Christie Finance to secure competitive property funding, Anthony comments, "With our recent history and the current financial climate, it seemed nigh on impossible for us to secure funding to purchase the building we currently occupy.
"Lawrence at Christie Finance however made the process seem easy, by not only securing us finance in a very short timescale, but also doing so from a reputable high street lender. I'm under no illusion that this could not have been achieved by many people.
"The building we currently occupy, and have been trading from for 18+ months, was placed at auction. We had a five-year lease in place with no guarantee of extension at the end. Due to the nature of our business, and size of machinery, this would not have been possible, and likely that we would not have financially survived the move. Our only option was to purchase the building ourselves. We plan to continue growing our business, maintaining the building, and protecting our investment. This purchase will go a long way to securing ours and our employee's futures."
Tom and Anthony were recommended to Christie Finance by Ashley Cobban, Retail Business Agent at Christie & Co. He quotes, "When I became aware that my lifelong friend's business was at stake, I knew there was only one person I could trust to make sure they obtain the funding they needed. It is excellent to hear fantastic feedback on how Lawrence handled the deal. Anthony and Tom can relax knowing they have security of tenure for their business. Thank you, Lawrence."
Lawrence Roberts, Associate Director at Christie Finance, worked with Tom and Anthony to source competitive funding, he comments, "Ashley introduced me to Tom and Anthony and expressed they were looking to buy the property. This was not a straightforward process at points, and we were in the midst of the pandemic however, I am delighted with the funding package achieved and I wish them all the best for the future, with the firm belief that they will continue to develop the business."
For more information on this deal, please contact:
Bronte Hughes, Corporate Communications Executive
T: 07791 982 460 or E: bronte.hughes@christie.com  
Contact the broker:
Lawrence Roberts, Associate Director   
T: 07702 809 566 or E: lawrence.roberts@christiefinance.com