Shareef Pharmacy in Birmingham sold to first time buyer
Specialist business property adviser, Christie & Co has brokered the sale of the Shareef Pharmacy in Yardley, Birmingham with funding secured through specialist commercial finance broker, Christie Finance.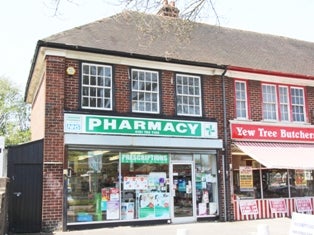 Shareef Pharmacy is a community pharmacy with huge potential to expand its range of services. Situated in a parade of shops along Church Road, this established business has been with its previous owner for the last 30 years and was placed on the market so the owner could retire from the sector.

The new owner a first time buyer, Zahida Parveen has been searching over the past couple of years for her first pharmacy to own before finding Shareef Pharmacy. She is a highly experienced pharmacist, who has previously worked at Spire Hospital, Lloyds Pharmacies and as a community locum.

Jassi Sunner, Senior Business Agent at Christie & Co who brokered the sale comments, "We are really pleased with the completion of this sale after overcoming a few obstacles during the legal stage. The sale further demonstrates the desire for first time buyers to take the leap of faith required in this competitive market. Having been a disappointed bidder previously, we are really pleased Zahida has managed to acquire her first pharmacy."

The pharmacy attracted a large amount of attention from perspective buyers and with the help of Senior Director, David Ward at Christie Finance to guarantee funding, it helped Zahida's offer stand out to the seller.

He said of the deal, "I was delighted to help Zahida secure finance to buy Shareef Pharmacy and bring to an end her long business search. Her experience and expertise will benefit the business from day one and her plans to add advanced NHS services will aid the wider community."