New team onboard after Sherwood House Dental sale
Specialist business property adviser, Christie & Co has brokered the sale of Sherwood House Dental Practice in Loughborough, Leicestershire with funding secured through specialist commercial finance broker, Christie Finance.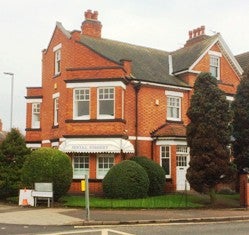 Sherwood House Dental Practice near Loughborough Town Centre has been looking after NHS patients for over 75 years. The business is situated over three floors with two ground floor surgeries. The previous owners were looking to retire and will remain to assist with the transfer for a short time.

The new practice owners, Amit and Dipak Parmar are two brothers, who were looking for a practice to jointly own and run. Amit's wife will also join them at the practice and all three will share responsibilities, while looking to introduce private dentistry at the practice.

Carl Steer, Director at Christie & Co who brokered the sale comments, "After many years in ownership Dr's Norris were keen to find a swift exit to retirement, whilst also ensuring their patients and staff would be in good hands. We progressed to market the practice, attracting more than half-dozen viewings and offers, eventually allowing us to choose our 'right' buyer. Being an already established practice owner in the town, the Parmars we felt would take the practice on to the next level and be in good hands for many years to come.''

Specialist business funding was required to undertake the sale and with the help of Senior Director, David Ward at Christie Finance to arrange the funding to facilitate the change in ownership at Sherwood House Dental Practice.

He comments, "I was delighted to help Amit and his family with funding to help takeover this practice. Sherwood provides a great established business to build on and with our expertise, we were able to handle the whole funding process while they worked in their other practices. It will be exciting to see the business develop and thrive."

Amit Parmar said of the deal, "What can I honestly say, you get what you pay for. David is absolutely fantastic. David justified every pound spent by saving us approximately 4 times his fees by renegotiating the transaction value following some clever negotiation. Day and night he was a telephone call away. He made the whole process a breeze. Only thing more he could do is come and run the practice for us but I think I might be asking too much. I wouldn't go anywhere else again."