11/30/2018
|
Childcare Mortgages
Icelandic childcare operators expand their portfolio with the purchase of Elmwood Nursery
Elmwood Nursery in Newton Mearns, East Renfrewshire has been purchased by highly experienced childcare operators Margrét Pála Ólafsdóttir and Pórdís Jóna Sigurðardóttir, with competitive funding secured by specialist commercial finance broker, Christie Finance.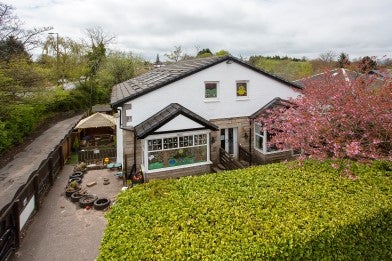 The nursery buildings are neighbouring converted houses on a quiet residential street, situated in an affluent and sought-after suburb on the southside of Glasgow. The nursery has an operating capacity for 87 children having expanded the properties at the end of 2016. Elmwood is well established, operating in Newton Mearns for 18 years, enjoying a long standing relationship with both East Renfrewshire Council and the Care Inspectorate.

The nursery's latest inspection in 2017 delivered a 'Good' grading with an average attendance in 2018 of 92%. Both nursery buildings were fully refurbished in 2016 with every room designed to be bright and spacious, furnished with an excellent variety of resources and playing equipment. All play rooms are equipped with a Sonos sound system and employees are provided with a Samsung tablet to manage an online profile system; keeping parents updated with their child's progress.

Margrét and Pórdís both currently reside in Iceland, owning and operating Hjallastefnan, the largest privately owned educational company in Iceland comprising of a mixture of 18 nurseries and primary schools; educating over 2,000 children and employing 450 members of staff.

Margrét is a pioneering educator and philanthropist in Iceland. Not only an educated teacher, she is an experienced principal with qualifications in business management - an M.Ed. in Education and an MBA in Business Administration. Throughout her career, Margrét has written numerous articles and novels on gender equality, pedagogy and education. She has been recognised for her outstanding work having received 'The Knights Cross of the Icelandic Order of the Falcon' from the President of Iceland for innovation in the education sector.

Pórdís is the CEO of Hjallastefnan and has been since 2016, prior to this she worked as Managing Director for Iceland's biggest recruitment agency, Capacent.

Margrét, Pórdís and their team will be working alongside the existing management team in place at Elmwood. The nursery is extremely successful with occupancy rates performing well above the industry average therefore, no immediate changes will be made to the running of the business.

Margrét Pála Ólafsdóttir comments on the purchase of Elmwood Nursery "We are very proud to have been chosen from among the many interested parties to take the helm at Elmwood. We aim to cherish and embrace the existing culture of the nursery while at the same time enriching the learning environment with some new and exciting ideas."

Craig Dickson, Director at Christie Finance, worked with Margrét and Pórdís to secure funding. He comments "It has been an absolute pleasure working with Margrét and Pórdís to facilitate their move into the Scottish childcare market. Their passion and enthusiasm for delivering a first class standard of education is extremely apparent. I wish them every success in owning and operating Elmwood Nursery, I know they will do an extraordinary job".