The unwritten rules of buying a dental practice!
New Starter, in Dental Care Finance Team, Becki Barnett, Financial Consultant. Uses her knowledge and experience of working to fund practices over the years with this article about the whole-market approach to buying a dental practice featured in Dentistry Magazine Use the link to view or read the full article below.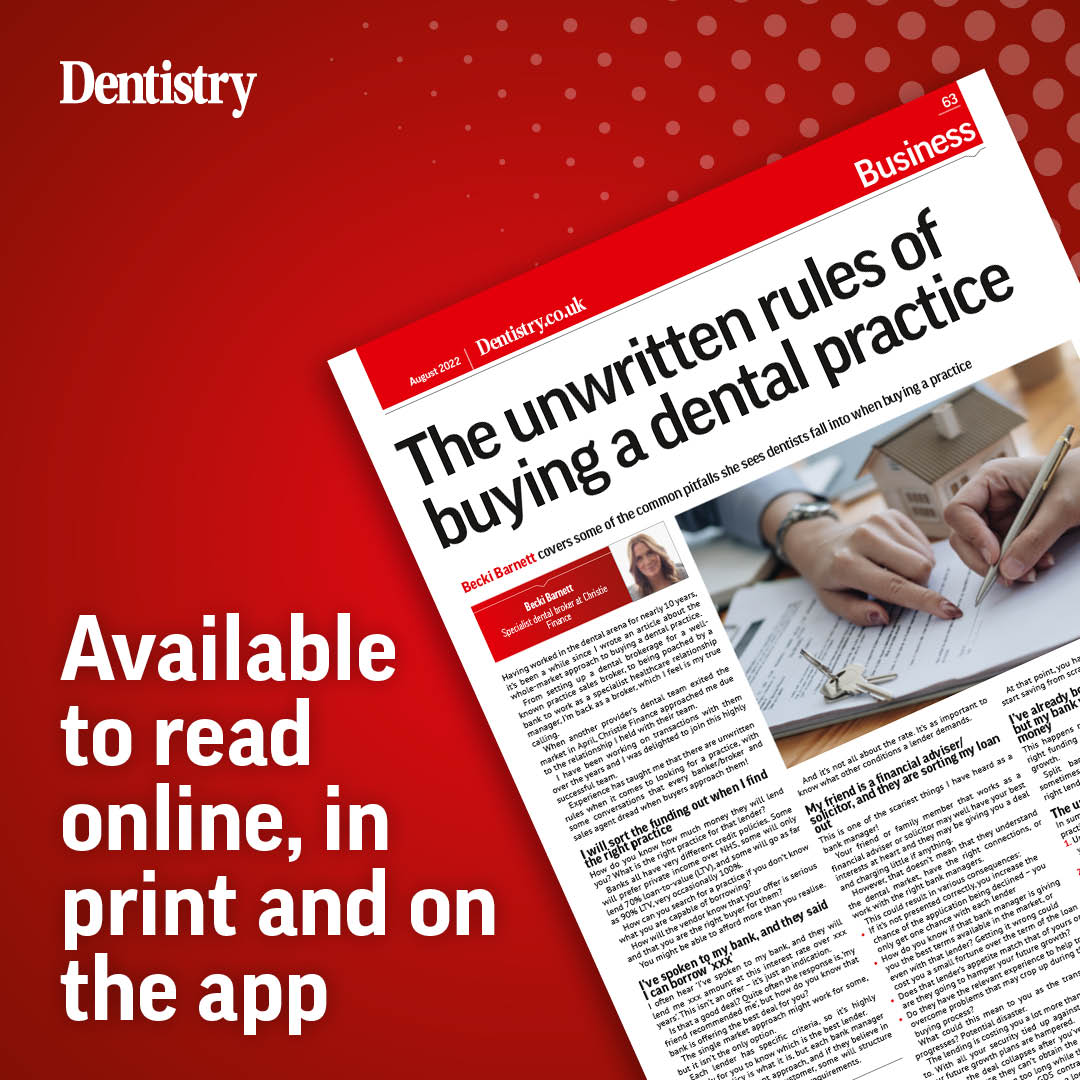 Unwritten rules of buying a dental practice!
Having worked in the dental arena for nearly 10 years. It's been a while since I wrote an article about the whole-market approach to buying a dental practice.
From setting up a dental brokerage, for a well-known practice sales broker, to being poached by a bank to work as a specialist Healthcare Relationship Manager, I'm back as a broker, which I feel is my true calling!  When Wesleyan Bank's dental team exited the market in April, following the acquisition by Hampshire Trust Bank. Christie Finance approached me, due to the relationship I held with their team working on transactions with them over the years, and I am delighted to join the highly successful team. 
Experience has taught me that there are unwritten rules when it comes to looking for a practice, with some conversations that every banker/ broker and sales agent dread when buyers approach them!
I will sort the funding out when I have found the right practice
How do you know how much money they will lend you?  what is the right practice for that lender?  Banks all have very different credit policies, some will prefer private income over NHS, some will only lend 70% loan to value (LTV), and some will go as far as 90% LTV, very occasionally 100%.  How can you search for a practice, if you don't know what you are capable of borrowing?  How will the vendor know that your offer is serious and that you are the right buyer for them? You might be able to afford more than you realise.
I've spoken to my bank, and they said I can borrow XXX
I often hear I've spoken to my bank, and they will lend me xxx amount at this interest rate over xxx years. This isn't an offer – it's just an indication. Is that a good deal?  Quite often the response is, 'my friend recommended me!' But how do you know that bank, is offering the best deal for you? The single market approach might work for some, but it isn't the only option 
Each lender has specific criteria, so highly unlikely for you to know which is the best lender.
Credit policy is what it is, but each bank manager will have a different approach, and if they believe in the deal or you as a customer, some will structure things to accommodate your requirements.
And it's not all about the rate. It's as important to know what other conditions a lender demands
My friend is a financial advisor/solicitor, and they are sorting my loan out
This is one of the scariest things I heard as a bank manager!  Your friend or family member that works as a financial advisor or solicitor may well have your best interests at heart and they may be doing you a deal and not charging a lot if anything!  But… that doesn't mean that they understand the dental market, have the right connections, or work with the right bank managers. This could result in various consequences: -
If it's not presented correctly, you increase the chance of the application being declined – you only get one chance with each lender
How do you know if that bank manager is giving you the best terms available in the market – or even with that lender? Getting it wrong could cost you a small fortune over the term of the loan
Does that lender's appetite match that of yours – or are they going to hamper your future growth?
Do they have the relevant experience to help to overcome problems that may crop up during the buying process?
What could this mean to you as the transaction progresses?  Potential disaster… the lending is costing you a lot more than it needs to, with all your security tied up against the loan your future growth plans are hampered, worst still, the deal collapses after you've placed the deposit because they can't obtain the right level of funding, or it's taking too long whilst they try to work out what a UDA is in a GDS contract, with a bank manager that they deal with at a local level!  At which point, you have lost your deposit and now must start saving from scratch again!
I've already bought my first practice, but my bank won't lend me any more money
This happens more than you realise, getting the right funding for your first practice is essential for growth. Split banking isn't ideal, or even possible sometimes. Take the right advice and work with the right lender!
So, your unwritten rules to buying a dental practice…
#1.         Understand your funding options and what your budget is and see if it matches the type of practice that you are looking for
#2.         Don't limit yourself to one lender or listen to one line of advice.
#3.         Most important rule!  Take professional and experienced advice from dental sector professionals
Speak to Christie Finance today. With the right connections, a skilled; vastly experienced team, and a philosophy that puts your interests at the heart of everything we do! We can explore all your options and determine the best solutions. Whether funding a first practice or looking to expand an established one. We'll provide a distinct advantage over those not following the unwritten rules!
Becki Barnett
M +44 (0) 7764 241341
E becki.barnett@christiefinance.com