Senior Director, David Ward, celebrates 20 years working for Christie Finance!
It has been 20 years since David first joined Christie Finance, so we caught up with him to find out why he joined the business in 2002, what has changed during in this time and what he predicts for the future of Christie Finance.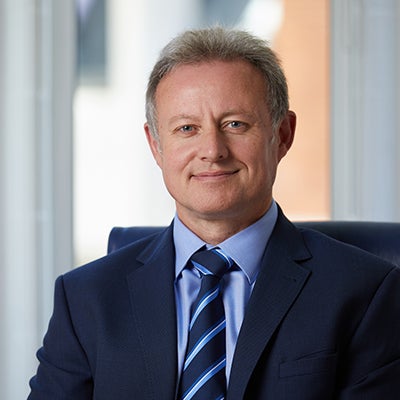 Q: What made you join Christie Finance?
A: Having worked for a high street lender for 14 years, I found it very restrictive and so embarked on a journey of change. I met with Richard Lunn (Managing Director - Care at Christie & Co), who was manager of the Birmingham office at the time. He explained that they were looking for someone to set up a Christie Finance Birmingham office, or Christie First as it was then named. This was following the success of two Christie Finance offices being set up in Manchester and Glasgow. I was on the train the next day to meet the Managing Director, Patrick Ryan, and was offered the job whilst travelling home.
Q: What was the business like at the time you joined?
A: The business had been very London-centric, with brokers making long journeys to all corners of the UK to meet clients. Therefore, regionalisation was the next obvious step with 16 regional offices being created, housing two Christie Finance brokers in each office (three in Manchester). This proved to be a tad ambitious, with the financial crash of 2008 precipitating major changes resulting in fewer, but more focused, regional hubs.
The lending market was completely different when I first started, with high street banks doing 90 per cent of the lending. The financial crash initiated a massive shift across the market, with high street lenders pulling back and new lenders, 'Challenger Banks' emerging. It was an exciting time to be a broker.
Q: How have you progressed during your time at Christie Finance?
A: I was promoted to Associate Director after three years and Director six years in. Around seven years ago, I identified a significant opportunity in the medical sector and recognised that it required some focus and leadership, so I put myself forward for the role of Head of Medical. The Group then created the opportunity to apply for a new title of Senior Director, and I was honoured to be the first to successfully complete the process and be awarded this title.
Q: How has the business progressed in this time?
A: Christie Finance has gone from strength to strength. The brokers that we have working for us are both excellent and professional. Everyone is willing to work together. They have all bought into the same ethos – providing the best advice and developing long term, lasting relationships. In recent years, we have created an Unsecured Finance division and they are absolutely flying. However, many opportunities remain for Christie Finance to continue to flourish. We have a very bright future ahead.
Q: What have you learned during your 20 years in the business?
A: Banking, and other jobs, can sometimes encourage a narrow-minded way of thinking. Broking enables you to be open minded and really think 'outside the box'.  We are not order-takers – we are solution-finders. This is what makes the role so satisfying. I love the feeling of knowing that there is a solution and having to use all of my skill and knowledge to unlock it.
I have also discovered how important it is to be a specialist. Too many bankers and brokers are 'jack-of-all-trades and master of none'. Clients really appreciate extensive sector knowledge, with this being hugely beneficial when you are trying to persuade a bank to lend - you can present them with facts and insight that can tip the scales in a client's favour.
Q: What are your predictions for the next 20 years?
A: Good question. I did not consider that I would be here after 20 years, and I have realised that I am the longest serving broker in Christie Finance history - not sure if that is good or bad! I see further specialisation within the team, with new, specialist lenders coming to the market who can support the differing funding requirements. 'vanilla' deals are few and far between and lenders need to adapt to both sector and client variations. Lenders who only want round pegs for round holes, are going to struggle for new business moving forward.  
I am looking to really drive the Medical Finance team to new heights, and we have already expanded the team in the last few months to reflect the increasing demand in the pharmacy and dental sectors. Personally, a bad injury has all but ended my 45-year rugby career, but I discovered skiing just before lockdown and am looking forward to doing plenty of that in the winter, whilst continuing to hack my way around various golf courses for the rest of the year with great friends and colleagues. My four daughters have all grown up, so it is time to be a bit more selfish now!